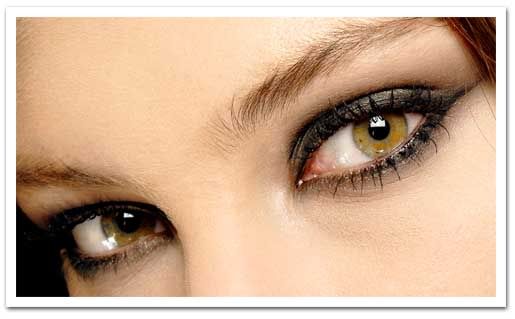 THE EYES
the best eye makeup is almost imperceptible, yet it brightens your eyes, enhances their shape and makes them look impressive.
Close-set eyes
to create the illusion of more space between your eyes, emphasize the outer corner with makeup and concentrate your efforts away from the center. apply light eye shadow from the inner corner to the iris and darker shadow from the iris out toward the edges. blend well. using a pencil or kohl crayon, draw a line as possible from the outer edge of the iris to the outer corners of your top and botton lash lines. smudge slightly with fingers or a hard-pressed Q-tip.
Wide-set eyes
to make eyes look closer together, apply a bit of dark liner on the inner corners of your eyes and blend. if you wear eye shadow, apply it starting at the inner corner of the eye, but let it fade out before the outer edge.
Deep-set eyes
light colors come forward, and dark colors recede. to bring your eyes forward, sweep a light shade of eyeshadow on your lids, from the lashes to the brow. don't use too much--it should be barely perceptible.
Eyes like saucers
to elongate your eyes, line the outer two-thirds of your upper and lower lash lines, then join the lines at the outer corners of your eyes, turning up just a tiny bit. apply mascara to the outer lashes only.
Droopy eyes
line the top lid along the lash line, pulling the line up slightly at the outer corners. apply eyeshadow on top of the line or smudge it to make it look softer.
Eyes like slits (chinky eyes)
to make your eyes look more open, curl lashes with an eyelash curler and apply mascara first to the middle lashes, the apply it on a diagonal toward the outer corners of your eyes.
have them tinted or line your eyes with a brown pencil and stroke down mascara on your lashes. if your brows are also light, black mascara can look too harsh.
Thinning brows
whether your brows are thinning or starting to "pale out" with the growth of a few grays, you can make them look thicker in two ways: 1) have your hairstylist or colorist tint them; 2) brush eyeshadow or mascara on brows in a shade that matches your brow color (use a small flat brush for shadow), and comb it through with an eyebrow comb or clean mascara spoolie.
Unruly brows
when some brow hairs grow in longer than others, just give them a trim. brush your eyebrows northward with a brow brush or an old toothbrush. trim any hairs that extend above the brow line with tiny scissors.
Spotty brows
fill in any gaps with a brow pencil, eyeshadow or eyebrow powder in the same color as your brows -- or experiment with one shade lighter -- and gently blend with your index finger or a small, flat brush.
Bushy brows
if your brows go wild after a few hours, set them place with a brow brush sprayed with a bit of hairspray or slick on a clear brow gel (or a dab of Vaseline), and brush them up and into shape.
Blondie brows
to give blond brows more oomph, apply eyebrow powder in a shade slightly darker than your brow color. take a bit of the powder on an angled brush, shake it to remove the excess, and stroke it very lightly and gently over the brows in an outward direction.
Weak brows
take a small, damp eyeshadow brush or makeup sponge. dip it into taupe, brown or black eyeshadow (whichever blends with your brow color), tap it to get rid of any excess, and smooth a bit onto your brows. or, after you've applied mascara, without redipping the wand, skim it over your brows then blend with a small brush or toothbrush
Brows in limbo
if you're in limbo waiting for your brows to grow back, dab cream concealer on stray hairs to cover them. to help define brows, use a brow wax. use eyeshadow or a pencil to fill in spotty regrowth but don't add too much color and use a spoolie or a baby toothbrush to blend and soften it. avoid shimmery eyeshadow while your brows are growing back.
sand-colored eyeshadow is a neutral, understated shade that will make your eyes look less red. and yellow, believe it or not, can make the whites of the eyes look whiter. if your are blue, try pale, lemony tones; if your eyes are dark, try yolky, custardy tones. stroke over your lids with an eyeshadow brush.
Delicate lashes
if your lashes are delicate, avoid mascara with thick-brush wands. try a brand with a thin, short-bristle wand or comb; it will help your lashes look more naturally fuller without overwhelming your eyes.
tip: a subtle way to make your eyes look bigger is to apply a second coat of mascara only at the outer corners of your upper lashes