...did anybody see that movie?
anyways, i know i've been MIA for more than a week. been drowning with work during weekdays and school on weekend...i've also moved out of my apartment and there, i was such a busy bee last week. and most probably this week too, but i'll try to update my blog though i haven't gotten back my internet connection yet (still waiting for the relocation). i am now in the mercy of my phone's 3G capability to connect, geeshh....i hate the speed!
so last week, i bought this magazine and my eyes were immediately glued with the eye makeup of the model. i remember telling myself that i should practice more by copying looks i would see online or on magazines. i haven't been practicing that much, actually. i only do my makeup when i'm going out, and i envy those who get inspiration from certain looks they see. so i asked myself "can i do this?" well, there's no harm in trying, aight!?
here's my inspiration for my eotn: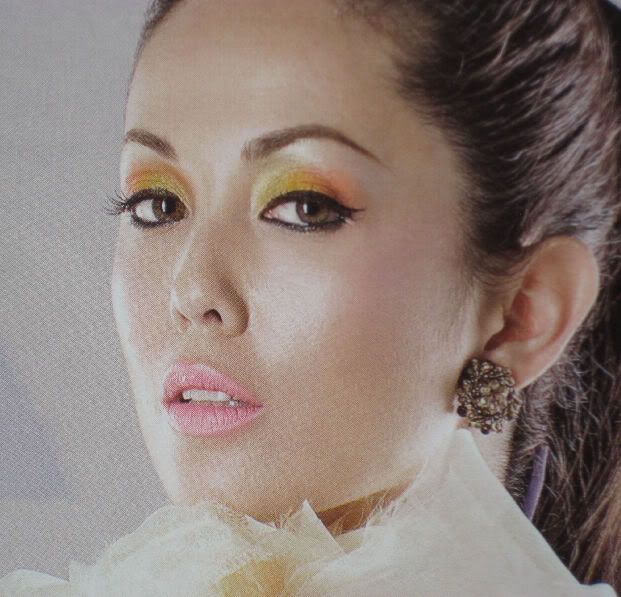 (sorry for the crappy pics)
and here's my version of the look:
EYES:
UDPP
Beauty from the earth e/s in Sage (inner 1/3) and Lemon (mid of the lid MAD e/s in Wild Mango on the outer 1/3 of the lid
MAC e/s in Shroom to highlight
Modelco browkit in Dark topped with MAC brow gel in Girl Boy
MAC fluidline in BlackTrack on the upper and lower lashlines
MAC Technakohl in Phone Number on the water lines
VMV Oh-la-lash mascara
FACE:
Monistat as primer
Cinema secrets concealer on the sides of the nose and undereyes
Max Factor True Illusion foundation in Golden
MAC MSF in Natural
Cargo blush
MAC Sculpt and Shape to contour nose
LIPS:
Revlon l/s in Pink in the Afternoon
MAC Gellee in Dewy Jube
i might have not given justice to the looks i've copied but i hope i was able to copy it even for a bit...the eyeliner went too strong for my eyes, it emphasized my oversized eyebags. LOL
so that's it...i'll try to get more inspiration for my future looks. heck, i should make use of the pics i've been cutting from magazines!
tata!